Data Center Server Rack Wiki: Definition, Types, and Buying Guide
With the increasing need for computing power and space in data centers, the server rack is often used to achieve high density. The proper use of data center server racks can facilitate the consolidation of different network equipment in an organized, secure and efficient manner. A wide selection of data center server rack types, but which one is right for you?
What is a server rack in the data center?
The server rack is a rack used to accommodate data center computing equipment such as servers, storage, HUBs, and network switches. It is designed to improve the efficiency of data center network management and operation.
Types of data center server rack
The open data center server rack consists of mounting rails without sides or doors – an open structure for mounting network equipment. They are typically used in server rooms that do not require physical security or need additional airflow control. An open rack cabinet provides easy access and offers plenty of open space for cable management, making this solution ideal for network cabinets and distribution rack applications with high-density cabling. There are two basic types of server rack: the 2-post rack and the 4-post rack. The 2-post rack generally requires less depth but supports less weight than the 4-post rack.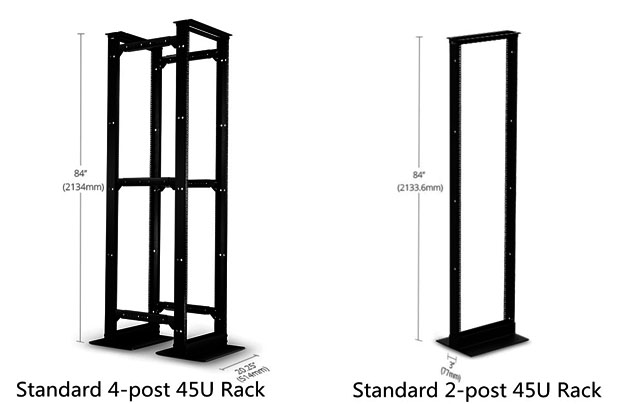 Advantage
Disadvantage
• – Price: The open frame rack is cheaper than a closed rack of a similar size.
• – Air circulation: The open rack for data center server allows air to circulate in all directions, this can be useful to improve the cooling of the equipment.
• – Easy access: In the event of equipment damage, the control panel is easily accessible.

• – Lack of security: Anyone can access the racks and unplug the cables or other things.
• – Dust: Equipment mounted in an open data center server rack is much more susceptible to dust and other debris, over time this can cause some problems.
Data Center Server Rack Cabinet
The server cabinet has front and rear doors, side panels, and four adjustable vertical mounting rails (posts). They are generally called a "closed rack" because the doors and side panels can be locked. This type of rack provides physical security to the equipment. Despite the advantages of network Server rack cabinets, they also pose some problems, especially in the field of cooling: a data center server cabinet obviously has much less access to outside air, therefore it will require some kind ventilation for air cooling.
Advantage
Disadvantage
• – Protection: The enclosed rack cabinet can be locked to provide additional protection and prevent unauthorized public access to the equipment.
• – Cabling saved: Cables are covered in the closed rack; this is more aesthetically pleasing and also helps to reduce the risk of damage to the cabling.
• – Cost: Compared to the open frame rack, the cabinet is considerably more expensive.
• – Accessibility: When installing or handling the equipment in a closed rack, the space for maneuvering is less.
The wall mount rack is designed to be fixed to the wall in order to save floor space and fit in areas where other racks cannot. It is generally open-frame or cabinet-style, and is used primarily to house network equipment such as fiber patch panels and switches. But it also has some disadvantages: It is smaller than other rack cabinets, so it cannot support a lot of weight, nor does it offer the same security as a fully enclosed data center server rack. If you are in charge of a small / home based office or larger offices that simply want to add an additional rack to an existing system, wall mount racks are an inexpensive option.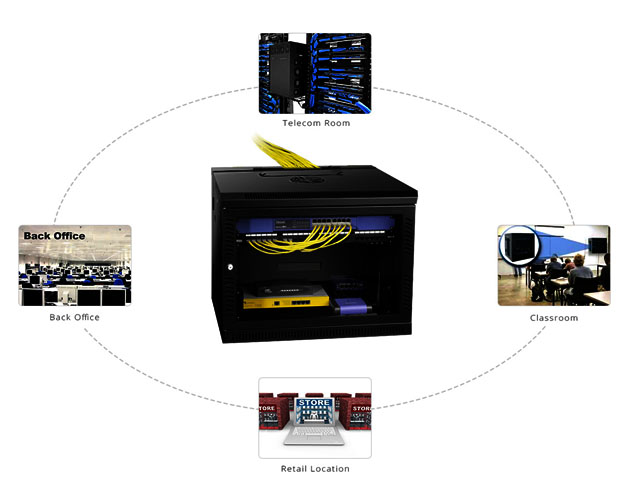 Size
A suitable data center server rack must fit the dimensions of the equipment. Although 19-inch racks are always the same nominal width, the height and depth vary. Typically, rack height is measured in rack units (RU or U) which is 1.74 inches, while width and depth use standard units of measure. The most popular standard racks in data centers are 19 inches wide and 42 U high (73.5 inches high).
Flexibility and manageability
For a flexible and easy-to-manage cabling environment, sufficient usable space should be left in the rack cabinet after installation of the devices. Additionally, some data center server racks even have casters in case they need to be moved.
Sufficient weight capacity
As more and more devices are added to the data center, network racks must have sufficient weight capacity. The number of switches, cables, PDU, and overhead cable assemblies must be considered when selecting a rack. You need to select a strong rack.
Cooling efficiency
Today the cost of data center cooling continues to rise. Proper racks contribute to cooling efficiency. Racks with accessories for airflow management might be a good option. Some other accessories, such as the rack door, can also affect cooling efficiency – most are at least 64 percent perforated to facilitate adequate airflow.
Security
Some devices in data centers may need security protection. Therefore, doors, side panels and roof can be installed in the racks; the designs of these accessories also vary according to the applications.
What kind of accessories can be installed in a server rack Cabinet in a data center?
The data center server rack can hold all standard 19-inch rack-mountable equipment, as long as it is not too deep for the rack cabinet or too high to fit in the available rack spaces. The equipment typically includes removable mounting brackets that are attached to the vertical rails of the rack with screws. Heavier equipment may also include horizontal rails or rack-mountable shelves for additional support. Other rack accessories assist the operation of production equipment include uninterruptible power supplies, power distribution units, cable managers, switches, patch panels, and fiber environments. For more information about the high-density interconnect solution.
Server Rack conclusion
When designing a data center, the first thing to consider is deciding which server rack to deploy. Regardless of the rack solution you choose, the important thing is that you maintain the security of your network and that you manage the cabling correctly to establish an organized system. At FS we offer all the data center rack solutions mentioned in this article that will help you maximize work efficiency and minimize the risks of network downtime. For more details, please contact us at gctlnetworking.com